BigSee – FLAAR M37 all-carbon racer
The Flaar M37 is an all-carbon racer designed for light-wind areas, such as most lakes in Europe. Key aspects for the design:
• the fastest monohull under 40 ft (keel boats without trapeze)
• ideal for the long distance round-the lake regattas (Bol d'Or, Centomiglia, Rund Um, Kékszalag)
• the stiffest and lightest structure possible,
• easy handling for a small crew (4-5 people),
• prepared for the addition of Dynamic Stability System (DSS)
• ideal for Match-race,
• relatively easy transport on road.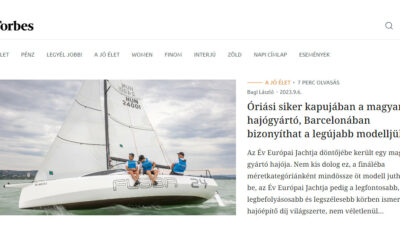 Az Év Európai Jachtja döntőjébe került egy magyar gyártó hajója. Nem kis dolog ez, a fináléba méretkategóriánként mindössze öt modell juthat be, az Év Európai Jachtja pedig a legfontosabb, legbefolyásosabb és legszélesebb körben ismert hajóépítő díj világszerte, nem...
read more