Red Dot Pier – The main thing is that fast: new missile boat from the lake Balaton
About eleven meters long, 3.30 metres wide and still only 2.2 tons heavy, and with a Ballast ratio of 56 percent: The Pay of a fascinate, others scare more. Because the new Flaar 37 of Flaar Performance Sailing in Hungary is already traded this year as the big winner in the long classics Kékszalag track at the Balaton, Around the lake of Constance, the Bol d'or on lake Geneva and the Centomiglia on lake Garda.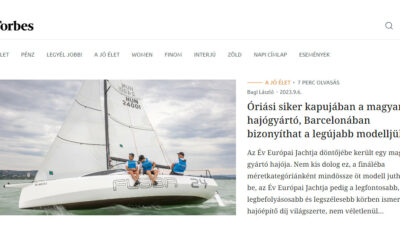 Az Év Európai Jachtja döntőjébe került egy magyar gyártó hajója. Nem kis dolog ez, a fináléba méretkategóriánként mindössze öt modell juthat be, az Év Európai Jachtja pedig a legfontosabb, legbefolyásosabb és legszélesebb körben ismert hajóépítő díj világszerte, nem...
read more